 Check out the latest landscape for deep learning patents in Korea
PI IP LAW (LEE, PARK & ASSOCIATES)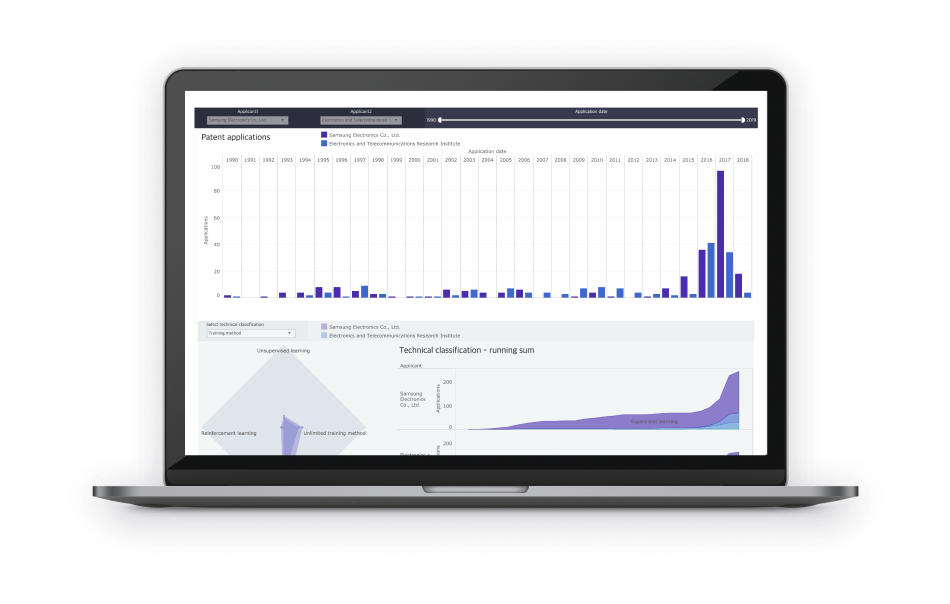 Analysis of 3,000+ KR patents
In-depth analysis of 3,000+ KR deep learning patents, with most of the patents which simply mention artificial intelligence technology without providing detailed technology filtered out.

Multi-Dimensional Patent Analysis
Patents are classified with 4 different criteria: training method, data domain, technical area and applicable area. This allows viewers to approach KR deep learning patent portfolios with different aspects.

Company-based portfolio analysis
Detailed portfolio analysis for each company. Viewers can apply filters for each company's portfolio and acquire filtered lists for patents. Possible to select two companies to compare the deep learning portfolios of them.
ABOUT OUR AI TEAM
PI IP LAW has been fortunate to represent many leading clients in the artificial intelligence industry, enabling us to acquire cutting edge expertise in this promising area of intellectual property. 4 patent attorneys from our AI team have participated in this project.
Keep updated with news and updates on deep learning patents!